PsxFanatic's Final Fantasy VIII Page
Welcome to PsxFanatic's Final Fantasy VIII Page. Well, it has been almost a year since I last updated this page. My lack of updates were due to the fact that my "identity" had been deleted from Tripod's website. Thankfully I can finally access and update this page. I also plan on adding a Final Fantasy IX page in the coming weeks, so keep checking in! Enjoy the site!
RECENT UPDATES
4/17/01. Added Cerberus and Alexander to GF List.
4/15/01. Finally got access to this page again. Look for more additions coming soon.

Questions or Comments? Write to me at cosmo6@mindspring.com.
Click on the image to view a very large version of the World Map.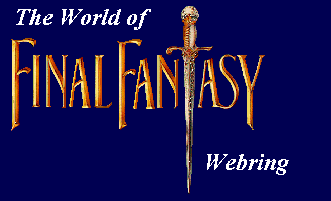 This World of Final Fantasy site is owned by PsxFanatic.

Want to join the World of Final Fantasy Webring?

[Skip Prev] [Prev] [Next] [Skip Next] [Random] [Next 5] [List Sites]